LEAVE BLANK
Your content goes here. Edit or remove this text inline or in the module Content settings. You can also style every aspect of this content in the module Design settings and even apply custom CSS to this text in the module Advanced settings.
Detailed History
Historians consider Hunt's to be the first Methodist church in the Greenspring Valley. Its creation and early years are entwined with the lives of the Hunt family, who were an integral part of the Greenspring Valley's early history. Robert Barns, in The Greenspring Valley, Its History and Heritage, records that part of Beall's Discovery, the tract upon which Hunt's church stands, was acquired by Walter Smith in 1730. At his death, he left this property, plus two other Valley tracts, divided between his son, Walter, and his widow, Elizabeth (Chew) Smith, who later married Job Hunt of Calvert County.
Job and Elizabeth had four sons before Job's death in 1753. The widow and her three younger sons, Job, Samuel, and Phineas eventually moved back from Calvert County to Baltimore County where she bought 500 acres of Valley land, including part of Beall's Discovery from her eldest son Walter Smith, Jr., in exchange for a yearly rent.
Barnes points out that at the time there were dwelling houses on the land, one of which may have been Hunt's Meeting House, as the residence of Phineas Hunt came to be known in the late 1770's. This house is still in existence as a private residence, just northwest of Hunt's Church. Upon his death in 1770, William Smith, Jr., left all his Valley property and his share of his father's estate to his three half- brothers, Job, Samuel, and Phineas. Records of the time show that in 1773, planning to be remarried a third time to John Bond, Mrs. Hunt conveyed her real and personal estate, including the tracts of land that she owned, to her sons, subject to a yearly annuity to be paid to her during her lifetime.
By 1773, Phineas and his brothers were the owners of three large farms in the eastern part of Greenspring Valley. A present-day descendant describes the properties as being about 350 acres each: Job's being in the vicinity of the present-day Park School on Old Court Road; Phineas' lying between present-day Brooklandville and Riderwood; and Samuel's stretching east to the present-day Kenilworth Mall area in Towson. The Hunt brothers and their families were connected with the Valley's Garrison Forest English Church, where Phineas was a vestryman from 1799 until 1809.
In his 1910 pamphlet, The Story of Hunt's Methodist Episcopal Church, the Reverend H. Wilson Burgan points out that it is not known exactly when or how Phineas converted to Methodism or when preaching began at his home. Burgan goes on to explain, however, that as early as 225 years ago, Phineas Hunt's home had become a preaching appointment, along with 29 others, on the Baltimore circuit. Hunt opened his home as a meeting place for Methodists and as a stopping place for itinerant preachers traveling the circuit. Francis Asbury writes of preaching at Hunt's house on September 3, 1773, and again on three occasions in 1777. During this period, the Methodist preachers (earning $64.00 a year plus a few traveling expenses) would visit a neighborhood and preach for a day or so and then move on. It might be months before they came again, so they would assign someone as class leader to lead the society in their absence. In 1773 at the age of 22, Phineas Hunt was made class leader and held the title for the next 64 years of his life. In his later years he became affectionately known as "Father Hunt" by many of his class members.
In these early years, Methodists were not a separate denomination but members of the Church of England. They were simply a religious party within known for its methodical ways and its piety and zeal. Those people attending meetings at Phineas Hunt's home were members of the Garrison Forest English Church, known today as St. Thomas Episcopal Church in Garrison, Maryland.
In his book, The Garrison Church, the Reverend Allen explains that the Methodist preachers held their meetings at a different hour or day from the scheduled services so that members could attend both. The Methodists in those days referred to their places of worship as "meeting houses" and referred to the English church as "the Church." All members at this time, including Methodists, received the sacraments only from the established church. Hunt was an ardent, active Methodist, yet he maintained his membership in the Garrison Forest Church his entire life.
Throughout the years, although he remained affiliated with the St. Thomas Parish, Hunt actively pursued the practice and advancement of Methodism. His spiritual guidance and determination were the forces behind the establishment and early growth of Hunt's Church. In his church history, the Reverend Burgan quotes from the writings of the Reverend Henry Smith, who was a pastor at Hunt's in 1806 and again from 1833-34 to describe Phineas Hunt: "The Hunts were the first who believed and turned to the Lord when they heard the Methodist preachers."
Phineas Hunt was seen as "a counselor of the youth, an exhorter to the sinner, an example to Christians, a minister of peace to the sick and the dying." Smith praised Hunt and his wife Suzannah's religious characters and interests. He wrote that "Phineas Hunt was a man thoroughly imbued with Maryland hospitality and brotherly kindness" and that "Sister Hunt was one of the neatest house-keepers, and all attention to the preachers, and their house could not fail of being one of the best preachers' homes." He explained how "Brother Hunt had the affection and confidence of his class, and indeed all of his neighbors." He further noted, "I never knew a man that loved to talk about experimental religion more than did Father Hunt."
In 1900, Mrs. Rebecca Rider, for many years a member of Hunt's church, remembered Mr. Hunt from when she was a little girl. She said that he wore knee breeches and that his hair was curly and that he allowed it to grow long and curl over his shoulders. She explained that he was noted for his "piety, usefulness, and liberality." She remembered that Phineas Hunt and his brother Samuel, who had also been active in the church, usually sat side by side near the front of the church during worship services. She recalled that as a child, she heard much of the "upright religious characters" of both brothers and how they had "laid the foundations upon which others have built the walls of Zion."
Due in large part to the personal leadership and spiritual guidance Phineas Hunt provided to the little class meeting at his home, the Hunt's Methodist Society continued to grow despite the ravages of the American Revolutionary War. By 1780, the congregation had grown too large for the Hunt family home, and Phineas gave a part of his land for the erection of a log chapel. Four years later at the Christmas Conference of 1784 held at Lovely Lane Chapel in Baltimore City, the Methodists officially broke from the Church of England and became a separate denomination.
Burgan's history records point out that on September 4, 1786, the Hunt society, now organized as a Methodist Episcopal Church, officially bought the ground on which the log chapel stood. Hunt conveyed 3/4 of an acre of Beall's Discovery to the church trustees (William Stone, Samuel Hunt, Michael Kramer, Josua Bowen, and Daniel Isgrig) in exchange for twenty schillings. To view a copy of the Baltimore County Land Records recording the sale, click here.
In the deed, Phineas requested that the chapel be called "Look Together," but because he was so much a part of the church's history, the congregation continued to use the Hunt family name. Francis Asbury was superintendent of the church at the time. He later wrote of preaching again at the Hunt's chapel once in 1787 and again in 1789. He described the chapel as a log building with one large room, which contained a back gallery for slaves. The church faced Joppa Road and was known officially as Hunt's Methodist Episcopal Church. By 1826, the congregation had outgrown its log chapel, and a larger, more suitable log building was erected, again facing Joppa Road. At this time, a second confirmatory deed was drawn up and conveyed to the church trustees, probably to correct an error in the original 1786 deed.
Ten years later in 1837, Phineas Hunt died at the age of 86. His brother Samuel died 2 years later in 1839. Hunt'' wife, Suzannah (née Gott) Hunt, died in 1847. All three are buried in the Hunt family graveyard, not far from their beloved church. In 1874, approximately one hundred years after Phineas Hunt opened his home for Methodist meetings, the cornerstone was laid for the building of a permanent two-story stone structure. In 1877, the gray stone sanctuary was completed. It faced Old Court Road, a narrow red clay road then referred to as Hunt's Lane. Today the remains of this old chapel stand as the core of the present-day church.
Sources of Information:
The Garrison Church, Sketches of the History of St. Thomas Parish, Baltimore County, Maryland 1742-1852
The Greenspring Valley, Its History and Heritage (volumes 1 and 2)
The Story of Hunt's Methodist Episcopal Church
Hunt's collection of bulletins, programs, news clippings, etc. housed in the Bicentennial Parlor.
Pastors of Hunt's
Carissa Surber, 2021-present
Travis Knoll, 2017-2021
Gary Sheffield-James, 2008-2017
Mary Putnam Roberts, 2002-2008
Diane A. W. Crider, 1996-2002
Dr. Jarrett Wicklein, 1992-1996
Dr. David A. Highfield, 1983-1992
Edward R. VanMetre, II, 1969-1983
Richard Nowers, 1965-1969
Gerald Zimmerman, 1964
Clifford Cunningham, 1962-1964
Forrest Ferris, 1959-1961
Charles M. Robinson, 1946-1958
Noah Clough, 1942-1945
Louis M. Young, 1938-1941
John Stacks, 1934-1937
John E. Holt, 1929-1934
William Lewis, 1925-1928
Frank Isaac, 1922-1924
C.E. Smith, 1920-1922
Solomon German, 1918-1920
U.S.A. Heavener, 1914-1917
Howard Thompson, 1910-1913
H. Wilson Burgan, 1908-1909
Hunt's & Stevenson Churches
H. Wilson Burgan, 1907-1908
Hunt's Circuit, 1883-1906
Brooklandville Circuit, 1870-1883
North Baltimore Circuit, 1855-1870
Summerfield Circuit, 1838-1855
Baltimore Circuit, 1773-1837
Buildings
Phineas Hunt opened his house for the original congregation meetings around 1773. At that time, "Circuit rider" preachers would make rounds visiting several groups periodically. Phineas' house was built ca 1750 and is still standing, although several additions have been added over the centuries.
As the congregation grew, the first log cabin, ca 1780, was built on the present-day site of Hunt's Church. Phineas Hunt sold 3/4 acre, which included the log cabin, to the Trustees of the church in 1786. The building was described by the superintendent at the time as one large room with a back gallery for slaves. The original log cabin was replaced in 1826 by a second, larger log cabin.
In 1874, the foundation was laid for a two-story stone building that still stands today and has a somewhat unique characteristic: the sanctuary is on the second floor. In the early 1900's, a parsonage house was built next to the church building. Extensive renovations, including electrification, were made to the church building in 1905. Following a fire in 1924 that gutted the building, remodeling included an addition to the back of the original building. That addition included a basement with a furnace room, kitchen, and meeting room and an additional meeting room and a stage on the first floor. Following a devastating fire in 1933 that gutted the church building, the building was renovated again. This renovation included a new stained-glass window in the sanctuary and a new bell tower and steeple.
Another fire in 1962 partially burned the sanctuary and required another remodeling effort. In the 1962, Hunt's Church purchased a home in the new Thornleigh community to serve as a parsonage. Although the old parsonage was planned for demolition, it was used for the next 25 years as office space and classrooms. A new kitchen and fellowship hall was added in 1973 for the church's bicentennial celebration. The sanctuary was remodeled and expanded in 1982, which included the installation of an elevator.
In the mid 1980's, Hunt's purchased a house across Old Court Rd to serve as the office, nursery, and classrooms. The original parsonage was demolished, and a new fellowship hall and classrooms were added in 1987. In 1992, Hunt's Church purchased the parcel adjacent to the church property, including a stone house, now called the Agape House, to serve as the church office and additional meeting rooms. The property across Old Court Road was subsequently sold.
1933 Renovations
Following a fire in 1933 that gutted the church building, the building was renovated again. This renovation included a new stained glass window in the sanctuary and a new bell tower and steeple.
Hunt Cemetery
The Hunt family cemetery is located west/north-west of  Hunt's Church and just east of Phineas Hunt's home. It is a family cemetery, not a Hunt's Church cemetery. Since Phineas Hunt and other family members instrumental in the beginnings of Hunt's Church are buried there, we have much of it documented here. The cemetery is completely surrounded by a stone wall with a large inscribed marble stone. Below is a picture of the stone and the words it contains.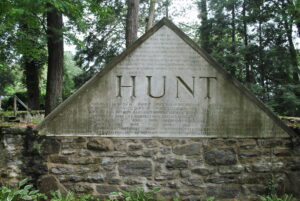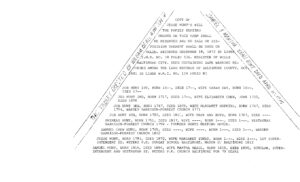 Here is a diagram of the headstones & footstones in the cemetery. Below is a listing of all stones with inscriptions. Due to age, there are a few stones no longer legible.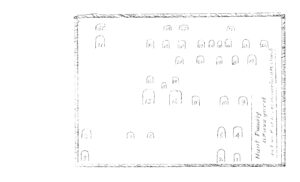 Headstones #12 and 13 are for Phineas and Susannah Hunt. Here are the inscriptions on those two stones and an inscribe stone in between their headstones & footstones: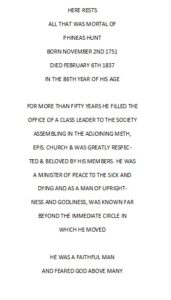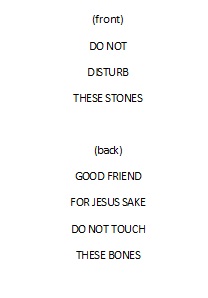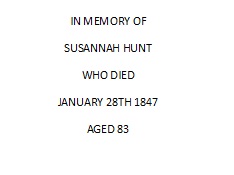 Here are some pictures of the cemetery.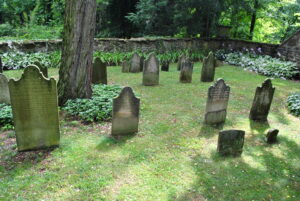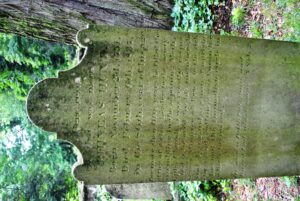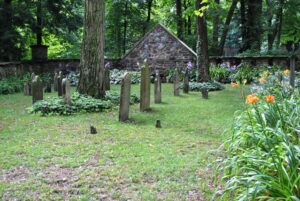 Carroll's History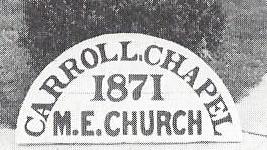 At the Annual Conference of 1870 held at Frederick, Maryland, Bishop Edward R. Ames presided.  Because of other organizational changes at this conference: "A new circuit was formed to be known as the Brooklandville circuit.  It was made of Hunt's, May's, and a congregation worshiping at Kelley's Schoolhouse on Chestnut Ridge."
On September 5, 1870, Mr. John N. Carroll and Mary R. Carrol, his wife, "… in consideration of the sum of one dollar and for other good causes…" deeded to John H. Leaf, John Scott and Lewis I. Roberts, trustees in trust that piece or parcel of land, along the Dover Road near the line dividing "Middle Ridge" and "The Caves", containing one acre of land.
The land was deeded to the three trustees and the survivors of them, the heirs and assigns of such survivor forever provided that within a reasonable time a suitable edifice shall be built, maintained, and used continually as a "place of Divine Worship for the use of the ministry and membership of the Methodist Episcopal Church…"
At the forth quarterly conference, held at the Hunt's Church, February 6, 1907, a petition was offered by the members of the Hunt's congregation requesting a division of the circuit so that Hunt's and Stevenson Churches could be grouped together as a circuit, and Carroll's, May's, Gill's and Texas could form a second circuit.  One reason given for the urging this division was the distance between the two sets of churches being about five miles, with exceedingly long, steep and difficult hills to climb, taking at least one hour to get from either of the Valley Churches to anyone of those on the Ridge.  In April 1907 the division was made.
The Ladies Aid Society was organized in 1907 during the pastorate of Reverend A. A. Bichell. In February 1941, The Ladies Aid Society became The Woman's Society of Christian Service.
In 1960, when Reverend Carroll Yingling was minister, Pleasant Hill Methodist Church withdrew from the charge and became a station church and Reverend Yingling remained there.  As a result, a new charge, Carroll's and Gill's Churches, was established in June 1960, with Reverend Franklin E. Smith appointed to serve.
The 90th Anniversary of the original building was observed on October 1, 1961.  The Reverend Ward Kemp, a former minister, was the guest speaker. In June 1963, a third church, Stevenson, was added to the Carroll's-Gill's charge.
When it became evident that the property purchased from the Scott family in 1956 would provide insufficient room for parking facilities to meet county regulations, the property was returned to the Scott family.  Negotiations were undertaken to purchase 5.28 acres of land at Kelly and Greenspring Avenues from Mr. and Mrs. J. Fred Colwill.  Settlement of this property was made on November 27, 1964.
In September 1966, preliminary work on a new church building was begun.  On Sunday, May 28, 1967, the Cornerstone Laying Ceremony was held. The Reverend William Bishop, District Superintendent of the Baltimore Northwest District of the Methodist Church, participated in the service.  Former ministers of the church also attended.  The Reverend Richard L. Steadman, Jr., minister at that time, officiated at the ceremony.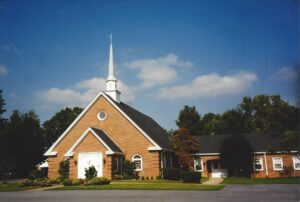 The last service in the old building was held on Sunday, October 8th, 1967, at 10:00 am.  The first worship service in the new building was on Sunday, October 15, 1967, at 10:00 a.m. A Consecration Service in the new building was held on Sunday, November 5, 1967, at 4:00 p.m. with the Reverend William E. Bishop presiding. On February 13, 1969, the old church building was razed.  This site, which is in front of the original cemetery, has been improved and has been designated as a new section of the cemetery, adjoining the old one. The new church sign was installed on the front lawn on July 26, 1969.  Bricks from the chimney of the old church building were used to support the sign.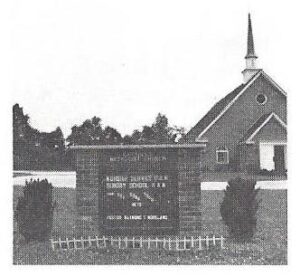 In June 1990 Gill's United Methodist Church closed and merged with Carroll's United Methodist Church on Greenspring Avenue to form the Carroll's-Gill's United Methodist Church. In June 2009, Carroll's-Gill's United Methodist Church closed and merged with Hunt's Memorial United Methodist Church in Riderwood, Maryland.
In September 2009, the Church of the Resurrection purchased Carroll's-Gill's UMC and held their first service there on October 18, 2009. The proceeds from the sale went to the Carroll's-Gill's Permanent Endowment Fund, which allows Hunt's to increase its ministry and mission outreach programs, while keeping the memory of the Carroll's and Gill's churches alive. More information about the Carroll's-Gill's Permanent Endowment Fund is available on the Missions page.
Gill's History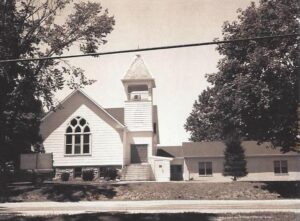 In 1832, the local preachers' plans mention Gill's meeting house for the first time. In 1853, Joshua Gill of John mentions Gill's in his last will and testament. In 1861, the Preachers' Reports of Baltimore Circuit first mention classes at Gill's school house. In 1878, eight people were received as Probationary Members, including a Joseph Boblits. In 1902 the Reverend William Costin was sent to the Hunt's Circuit as pastor.  There were three new preaching appointments opened under his pastorate:  Stevenson Station, Gill's School House, and Texas.
In 1905, the last will and testament of Charles T. Cockey Sr. is carried out.  November 6, 1905, the present property was deeded to the Board of Trustees from Charles T. Cockey Sr.  "Said trustees to hold said lot as to allow property authorized ministers of the Methodist Episcopal Church to hold their meeting at times not inconsistent with its use as a school house and also so as to allow Christians of other denominations to hold meetings therein when not occupied by ministers of the Methodist Episcopal Church." The Reverend John H. Brunges and the Reverend Dr. C. Herbert Richardson dedicated the church on January 14, 1906. In 1907, Gill's Church became a part of the Chestnut Ridge Circuit under the Reverend A. A. Bichell. In 1916 the present church was erected for a cost of $5,600 after fire destroyed the first building. In 1977 the educational unit was added at a cost of $99,310.
At the Charge Conference held October 16, 1989, those present from Gill's Church voted unanimously to discontinue after June 30, 1990, and to merge with the Carroll's UMC on July 1, 1990. A Church Conference was held on January 28, 1990, and a majority voted to affirm the Charge Conference action, agreeing to merge with Carroll's Church.  The Board of Trustees approved the Articles of Merger on March 29, 1990. On June 24, 1990 the last service was held at Gill's United Methodist Church. On July 1, 1990 the new Carroll's-Gill's United Methodist Church was charted. In July 1990, a Messianic Jewish group called Rosh Pina purchased Gill's UMC and have been meeting there ever since.