COVID Task Force
Our church's COVID Task Force has been suspended (effective 2/15/23) and anticipates permanently disbanding in May.
We thank you for all the ways in which you have supported the health of our church and community since March 2020.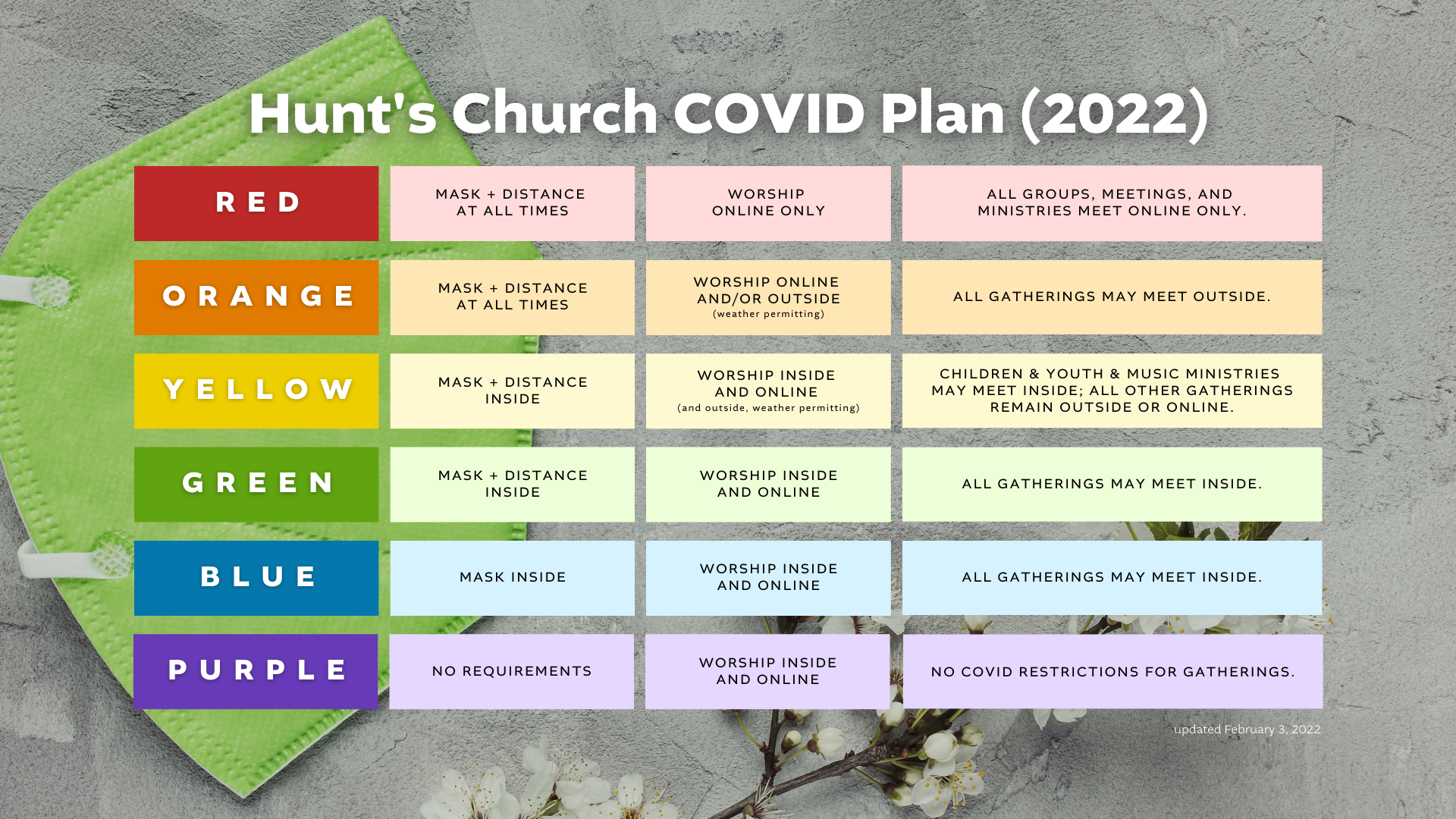 The above chart was developed by the Task Force through extensive discussion and consideration, with the goal of having consistent, coherent policies that keep the mission of our church in focus. While the colors do not correspond to any other organization's system, this plan gives us a roadmap for how to adjust restrictions as COVID spread waxes and wanes.
We are currently in the PURPLE Level
as of 1/1/23.
Worship In-Person (or Online)
Sunday services are held in-person in our historic sanctuary. All people are welcome to worship at Hunt's Church. If you prefer to worship from home, join us live (or on demand) on YouTube. 
Let's Get Together
All scheduled ministry may take place in-person, inside, at Hunt's Church. This includes worship, children's ministry, and meetings. 
For more details about each event, please visit the church calendar. 
Common Sense Precautions
We continue to ask that you and/or your household STAY HOME if you or a household member have or have recently had COVID-like symptoms.
Unvaccinated people who work with or mentor the children/youth must continue to mask
We will continue to have extra masks on hand at the check-in area
We will continue to 'contact trace' until further notice
We will continue to watch the data and will be responsive should the percentage of cases increase in our area.
Have a question that we didn't answer here? We'd love to tell you the answer—or come up with one! This new plan delegates decision making to our talented church leaders:
Worship or Music Ministry
Worship Committee Chair Barbara Anastasion
Fellowship
COVID Task Force Chair Barbara Anastasion
Committee Meetings
Church Council Chair Cathy Junkin
Community Groups 
Board of Trustees Co-Chairs Rusty Erdman and Kelley Huebeck
Children & Youth Ministries
Education Chair Jody Waters 
Church Office or Staff
SPRC Chair Jim Foster
Want to learn more about our COVID policy?
If you'd like to know more details about this COVID policy, the complete chart is available in the church office for anyone to view. If you have any general feedback or questions, please contact us. We want to serve you and serve our community well, by first doing no harm while we seek to do good and stay in love with God.